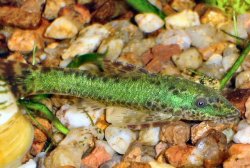 This month's featured species is Hisonotus aky. Are you looking for in-depth on a particular species? Then check out the vast CotM Archives.
Need accurate info and images of a particular catfish species? We have 3,438 species, 15,026 images encompassing 36,447 populations in 3,953 registered aquaria. See also the catfish on stamps, habitat, underwater, video collections and all C, CW, L & LDA numbers.
Recent activity in the forum. Easily keep up-to-date, subscribe to our latest posts feed.
( ? )
Catfish & fishkeeping book reviews written by aquarists for aquarists. Includes details on where you can buy them online.
The leading resource for a wide array of informative catfish articles. There's something for everyone here, ranging from Planet essentials to deeper water split across four sections - Species, Reproduction, Geography and 'Catfishology'. Dive in!
The CSG is based in the UK in the northwest of England but has members worldwide since inception in 2000.