Hello everybody,
Two days ago I bought a fish under the name 'Ancistrus', after some googling I came to the conclusion that it is most likely to be a 'regular' Ancistrus cf_cirrhosus.
But he/she has a white stripe at the end of the caudal fin what made me think about the Dolichopterus, so just to make sure hopefully you can clear things up.
This is the picture I made, hopefully it is clear enough, if not please let me know and I'll try to make more when he reveals him/herself.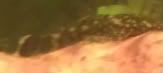 Thanks in advance!
Kind regards,
Anci Streisand