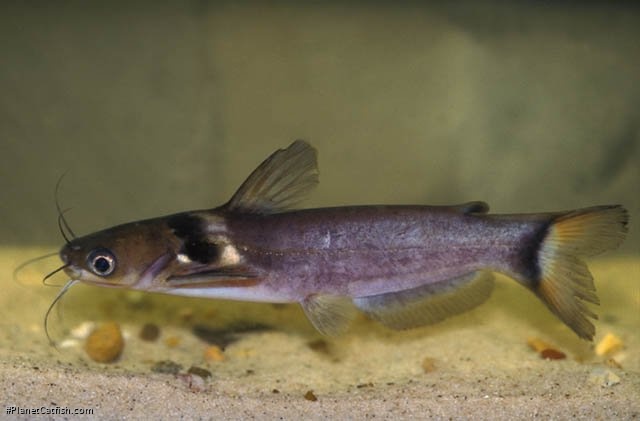 Black Collared Catfish, Weißstreifen Imperial-Wels (Germany) - Horabagrus nigricollaris Pethiyagoda & Kottelat, 1994
Article © Julian Dignall, uploaded September 01, 2001.
Not much is known about this catfish, outside of scientific literature this fish currently appears in but one hobbyist publication (Ornamental Aquarium Fish of India). There a picture can be found and little else. The book describes the fish as one that prefers shoaling, but although this behaviour is strongly exhibited in young specimens of the other species in the genus I did not notice this behaviour when selecting the two fish you see pictured here.
The other species in the genus Horabagrus is H. brachysoma (Golden Red-Tailed Catfish). It is being commercially farmed and perhaps it will not be long before the same is true of the black collared species. While we are discussing the two, the fish are very similar in terms of shape but their colouration happily gives the aquarist ways to distinguish between them. In H. nigricollaris, the black collar stripe extends from mid-body around to the top of the fishes head and the fish is generally darker all over. In the more golden coloured H. brachysoma the black marking remains a distinct spot on each side of the fish; a dorsal fin spot is also present. The image below shows the black collar marking nicely.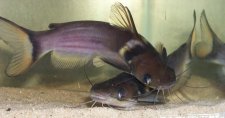 To my view this the black collared cat is the more attractive of the two but this argument really boils down to taste. For me, H. nigricollaris is a sleeker, more elegant fish with a subtle yet striking mother-of-pearl stripe just behind the leading black one. All its fins are works of art and the tail fin is a resplendent flame colour in well-conditioned fish. H. brachysoma is more striking certainly, but there is more to beauty than instant appeal.
Horabagrus has been considered as a member of the Schilbeidae cat family; it is not quite what you would expect from a bagrid. Interestingly it not only appears a morphological halfway house but also shares behavioural characteristics from both families. Certainly they are more sociable than many other bagrids of a similar or larger size. I have noticed the fish "blinking", a trick most commonly associated with Corydoras catfish and not something I had previously noticed in other bagrids.
It's a great beginner's catfish. Although the asking price may seem high for someone not used to hardcore catfish collecting, it truly is a real low-risk purchase. The fish are hardy and certain to give years of pleasure if kept properly. Given, you won't see the fish much in a well-laid out tank, but what an event when you do!
References:
Pethiyagoda, R. & M. Kottelat: Three new species of fishes of the genera Osteochilichthys (Cyprinidae), Travancoria (Balitoridae) and Horabagrus (Bagridae) from the Chalakudy River, Kerala, India.
Journal of South Asian natural History Volume 1 • Number 1 • April 1994

Copyright information for the images used in this article can be found on the species' full Cat-eLog page.
Cat-eLog Data Sheet
Scientific Name
Horabagrus nigricollaris Pethiyagoda & Kottelat, 1994
Common Names
Black Collared Catfish
Weißstreifen Imperial-Wels (Germany)
Type Locality
Chalakudy River, 26 kilometers upstream of Chalakudy town, near Vettilappara, Kerala, India.
Pronunciation
HOE ra BAG russ - nig ree kol ARE iss
Etymology
Horabagrus: Named after SL Hora, the Indian ichthyologist, and bagrus, the name of a catfish genus frequently used to form generic names. nigri = black, collaris = collar; alluding to the black 'collar' marking at the rear of the head
Articles
Species Information
Size
300mm or 11.8" SL. Find near, nearer or same sized spp.
Identification
Young fish are similar to H. brachysoma particularly if unsettled. In H. nigricollaris the black collar stripe extends from mid-body around to the top of the fishes head, whereas in H. brachysoma it remains a distinct spot. The adult size is a best-guess based on this similar H. brachysoma.
Sexing
Unknown
Habitat Information
Distribution
Chalakudy River, Kerala, India.
Indian waters, Periyar, Chalakudy (click on these areas to find other species found there)

Log in to view data on a map.
IUCN Red List Category
Endangered, range map and more is available on the IUCN species page. Last assessed 2010.
pH
5.5 - 7.5
Temperature
23.0-25.0°C or 73.4-77°F (Show species within this range)
Other Parameters
The fish is hardy and will adapt to most water conditions.
Husbandry Information
Feeding
An easy fish to feed. All prepared and frozen foods are taken usually under cover of darkness although with age the fish does become bolder.
Furniture
The fish will not be settled if some cover is not given. It panics in a fashion similar to Pangasius catfishes. The best bet is to add plenty of leafy plant cover which this fish appears to have a special affinity for.
Compatibility
Peaceful with other and it's own species. Not to be trusted with smaller fish though.
Suggested Tankmates
A great catfish for a catfish aquarium; it will compete for food well with most other fish. It is also suited to the larger community tank especially if it is to house active mid-water fish such as the larger barbs and rasboras. Would also cope well in an New World cichlid set-up.
Breeding
Unreported.
Breeding Reports
There is no breeding report.
Further Information
Reference
Journal of South Asian Natural History v. 1 (no. 1), pp 110, Fig. 13.
Registered Keepers
Keeping this species? Why not .
There is but a single registered keeper, view all "my cats" data.
Wishlists
Love this species? Click the heart to add it to your wish list.
There is no wish to keep this species.
Spotters
Spotted this species somewhere? Click the binoculars!
There are 2 records of this fish being seen, view them all.
More on Horabagrus nigricollaris
Look up Horabagrus nigricollaris on AquaticRepublic.com
BBCode
Look up Horabagrus nigricollaris on Fishbase
Get or print a QR code for this species profile, or try our LFS label creator.
Hits
11368 hits.
Last Update
2019 Sep 14 03:39 (species record created: 2001 Sep 01 11:22)
Hits: 11368
Back to Catfish of the Month index.