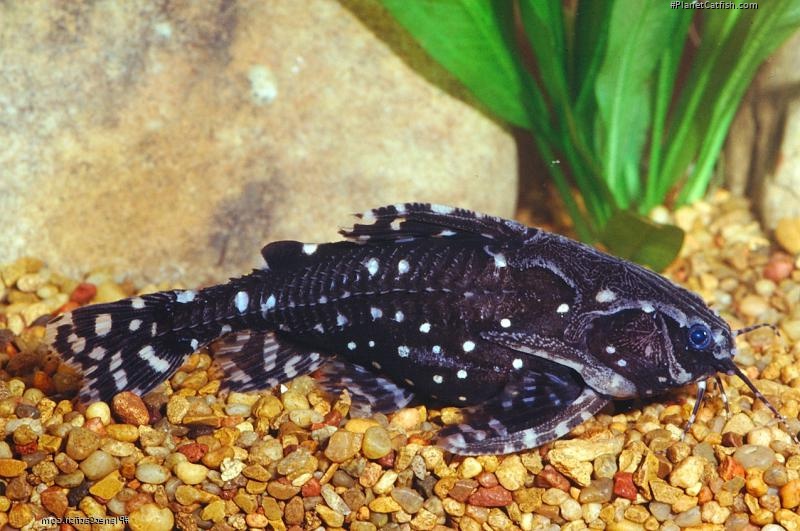 Spotted Talking Catfish, Kammdornwels (Germany), Plettet Tornmalle (Denmark), Spotted Raphael Catfish - Agamyxis pectinifrons (Cope, 1870)
This is another fish that can destroy a good net when attempting to transfer them. Although it can be a bit painful, it is possible to move this fish by hand. This is best practiced with small fish and rubber gloves initially, but seasoned pros can literally pluck these fish from underneath a rock. You must get a finger between each pectoral fin and the catfishes body with your thumb above the head. Due to a reflex driven defensive mechanism the fish will lock its pectoral fins, trapping your fingers! I recall reading that this action is used by the fish when caught to make itself as difficult to swallow as possible. The fish will remain locked to your fingers until you transfer it and submerge it once again when it will release and dart off to the nearest dark refuge.
Whether you transfer the fish by this or more conventional methods you will probably hear why it is called a talking catfish during the transfer. The fish emits a high pitched croaking noise which can be surprisingly loud. The fish achieves this by grinding the base of its pectoral fin bone against its shoulder bone; much like the noise you can make by grinding your teeth, but louder! Most, if not all, of the 80 - 100 members of the family can "talk" in this manner. Amongst these are some true giants (4ft +) which I would very much like to hear.

Copyright information for the images used in this article can be found on the species' full Cat-eLog page.
Cat-eLog Data Sheet
Scientific Name
Agamyxis pectinifrons (Cope, 1870)
Common Names
Spotted Talking Catfish
Kammdornwels (Germany), Plettet Tornmalle (Denmark), Spotted Raphael Catfish
Type Locality
Pebas, Peru.
Synonym(s)
Doras pectinifrons
Pronunciation
peck TIN ee frons
Etymology
Agamyxis: From the Greek agan, meaning much, and myxa, meaning mucus; in reference to the mucus produced by the fish.
Species Information
Size
150mm or 5.9" SL. Find near, nearer or same sized spp.
Identification
The light coloured spots that make this fish so attractive range from brilliant white to pale yellow in different batches of imports.
Sexing
Unknown.
Habitat Information
Distribution
Widespread throughout the Amazon basin.
Amazon (click on these areas to find other species found there) (Click the map-icon to show/hide map of species distribution)
pH
6.0 - 7.5
Temperature
20.0-26.0°C or 68-78.8°F (Show species within this range)
Husbandry Information
Feeding
Will eat any food that reaches it. Bloodworm and sinking catfish tablets are best as they can be ''aimed'' at the fishes daytime hide-out.
Furniture
Needs a dark refuge, but smaller individuals will spend the day in dense vegetation just as happily.
Compatibility
A perfect community fish
Suggested Tankmates
Ideal first catfish for a budding aquarist as well as a good "worker" catfish for all levels of community tanks
Breeding
Some details, although sketchy. Seems to be a bubble nest builder or at least lay its eggs on floating vegetation at the water surface.
Further Information
References
Proc. Am. Philos. Soc.v. 11 - pp568
Registered Keepers
(1) TP (k: 2), (2) synoguy, (3) natefrog, (4) Iwona (k: 5), (5) Persephone, (6) Chrysichthys (k: 2), (7) Lornek8, (8) Silurus, (9) gage, (10) Tuti, (11) azfisher (k: 2), (12) Devangel, (13) The-Wolf (p: 2), (14) Occellatus, (15) Armadillo Del Rio, (16) KenyanSandBoa, (17) Marsdinho, (18) Cooky_luvs, (19) Corylover, (20) BarbieDoll, (21) Kattes, (22) Kjlossman, (23) Belial, who also notes: "the only time i ever see this fish is when i take all the rocks out of the tank", (24) k1ttyme0w (k: 2), (25) Foster9011, (26) ali12345 (k: 3), (27) Terrorblade90, who also notes: "A very peaceful and shy catfish;it eat anything, and it's so voracious!", (28) Benjamin, (29) icekiki, (30) Plecofanatic1989, (31) Barracuda518 (k: 2), (32) Katy, (33) joepleco, who also notes: "They lock up thier dorsal fins and sing? When you take them out of the water, very easy to keep and feed. Highly recomended. One of the first cats I ever kept, I think I got the first pair 2 females when I was 13 & kept them for years. I always thought they were just fat, but they were full of eggs.", (34) Serian, (35) dsmfishgal, (36) CubCariboo, (37) Loracidlover, (38) Pungen, (39) tezr (k: 3), (40) coppernite, (41) AU Chief, (42) Mandrake, (43) aledk85, (44) kubastanik, (45) Nagy, (46) kabaltah (k: 22), (47) zedogz, (48) koter73, (49) fleahound (k: 2), (50) Stone, (51) doesdavid, (52) smegforbrains, (53) Sumners83 (p: 2), (54) dayglowfroggy, (55) Schmike, (56) ahodge84, (57) Reginator, (58) The.Dark.One, (59) TehSushiChef, (60) theonetruepath (k: 2), (61) SoCalDiscus, (62) Mike C (k: 4), (63) nomuken (p: 2, k: 2), who also notes: "eating machines", (64) coheedandcambriarules (k: 2), (65) Shaun, (66) hampala, (67) judeblackburn, (68) nvcichlids (k: 8), (69) Bijn (k: 2), (70) TheSmurfinator, (71) alsvidur, (72) matt12, (73) Back, (74) dpk2313, (75) Industrial, (76) xander, (77) coelacanth, (78) ichtyophile (k: 2), (79) biomechmonster, (80) Toad (k: 5), (81) bongthecgb, (82) alpha (k: 2), (83) Avinitlarge, (84) Derzel, (85) electrophyste, (86) theviper06, who also notes: "Spot", (87) sequoiacat (k: 2), (88) Irondale, (89) Bisclavret, who also notes: "Well, my wonderful "Spotted Raphael" is named "Sashimi". He/She/It has a crooked back, which we think was caused by it growing into a piece of decor before we purchased it.", (90) chubbikins, (91) tijani, (92) robb harriston (k: 3), (93) klink5, (94) NC24, (95) shivamotiram (p: 2, k: 2), (96) Brisch, (97) chimp, (98) hankinswood, (99) matt836, (100) jimlaroche83 (k: 2), (101) Sam (k: 3), (102) siluriphil (k: 3), (103) Benjamin Goh, (104) Taz, who also notes: "Very tough fish, was very badly beaten up by tank mates but completely recovered in new tank.", (105) Quo, (106) Buddiechrist, (107) Mezel, (108) crkinney (k: 2), (109) kp90, (110) maximus (k: 3), who also notes: "Feeding Tetra bits , Frozen bloodworms and NLS Thera + A", (111) arthos, (112) linden09, (113) browny85, (114) elcucuu, (115) Seagirt, (116) tropical (p: 2), (117) catfishkemp, (118) arcsb, (119) wendy333, (120) Catfish freak, (121) james gilbertson, who also notes: "Very static fish, finds a spot and very rarely moves, pretty but would like to see more of this fish", (122) airlik73, (123) Margie, (124) Junttis, (125) mrfishydude, (126) Mcjlance, (127) KDunning, (128) BernieEcht (p: 2, k: 3), (129) Blackguard, (130) francistrus (k: 2), (131) Andynotts, (132) Doras (k: 3), who also notes: "Tried to breed them but with no success.", (133) ruip, (134) FerocactusLatispinus (p: 3, k: 3), who also notes: "R.I.P. Jacob "Marley". He was the "everlasting glutton"! Never slim nor hungry!", "R.I.P. Rickles. I'm so sad, it was adapting very well, but died a few days into the careful Rid-ich+ treatment. Perhaps another will be added once the live plants have established greatly.", ""Dora-does" is its full name. Within 5 minutes of adding it, it voraciously consumed the freeze-dried bloodworms I offered it; it is always hand-fed and readily swims around at any time of day if food is involved.", (135) Sarajute, (136) TonyStark, (137) miguel mitchel, (138) Misiak (k: 2), (139) shoegazer, (140) Jass, (141) jpicker13, (142) Apostolis, (143) PlecosAndLoaches, (144) boostedhemi, (145) mcaquatic, (146) Hoplon, (147) cjdesmit, (148) JessM315, (149) Sean B, (150) ad88, (151) Tamcon83 (k: 2), (152) slayer5590, (153) dmcat (p: 3, k: 4), (154) jodilynn, who also notes: "Just got this beautiful individual yesterday, not looking good so hopefully "Dotty" pulls through. Update: When I do see her, she is extremely well fed, so despite being so shy she is not having any problem feeding! Only about 2 inches long.", (155) emacartoon (k: 2), who also notes: "Both have been seen.", (156) zeehop, who also notes: "Very reclusive, but beautifully patterned (and striking blue eyes.) I like to feed mine late at night, when it becomes more active. He has a certain nook he likes to hide in during the day... it will be interesting to see how he adjusts when he is too large to fit.", (157) thecameraguy, (158) Katking, (159) KGlo (k: 2), (160) Malek (k: 2), (161) PurecoYSS, who also notes: "Hides", (162) JonathanReid, (163) ahasting, (164) cowturtle, (165) joshuasmith94, (166) flatdog, (167) Gallywags, who also notes: "Hides in a cave all day until the Clown Loachs kick "him" out at night. Usually feeds at night but sometimes will come out during the day if really hungry.", (168) rob rensen, (169) Riippasaarni (k: 7), (170) catfishchaos (k: 2), (171) Jordanlewis100 (p: 3, k: 3), who also notes: "Only been in tank a few hours,swam straight into cave with striped talking cat! Update 19-02-17:Hasn't been seen for quite some time now I'm hoping it's still ok!", "Got this fish free from a friend I have 2 of these this one is the bigger of the 2 great fish", (172) lindfieldroy, (173) WadeNCreeks, (174) porinocoense, who also notes: "Kept in a 65 gallon growout with small predatory fish.", (175) Nadiboy, (176) PepperVirginia, (177) caninesrock (k: 999), (178) imstitches, (179) Zakqary, (180) L-Cait, (181) thefredpit, (182) Flatdog, (183) ThatPlecoGuy, (184) Mistyotis, (185) PHHorst, (186) The Pfusch (k: 2), who also notes: "Some of my first fish of my first own tank :-) .", (187) angerygrover, (188) knifegill, (189) BooBooKitty**, (190) steve r.

Click on a username above to see all that persons registered catfish species. You can also view all "my cats" data for this species.
Breeding Reports
None.
Articles
More on Agamyxis pectinifrons
Look up Agamyxis pectinifrons on AquaticRepublic.com
BBCode
(use in forum posts)
(species permalink)
Look up Agamyxis pectinifrons on Fishbase
Get or print a QR code for this species profile, or try our BETA label creator.
Hits
18284 hits.
Last Update
2013 Jul 19 12:59 (species record created: 1997 Apr 01 11:22)
Hits: 18284
Back to Catfish of the Month index.