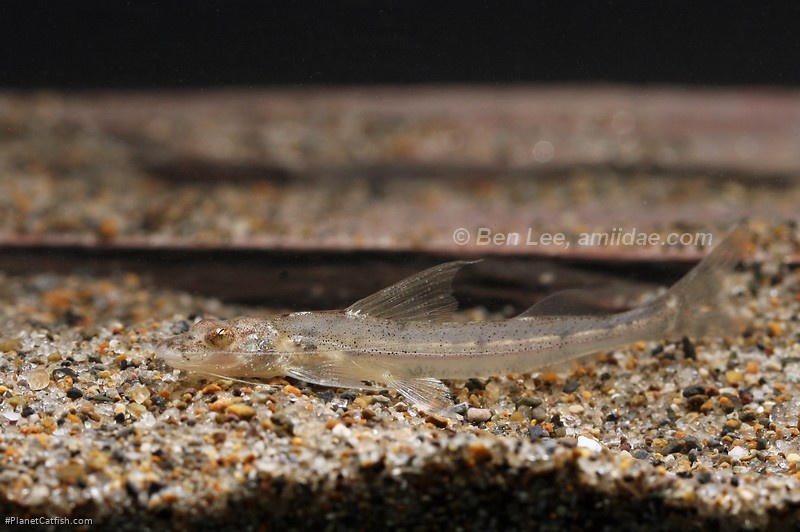 Mastiglanis asopos Bockmann, 1994
Article © Ian Fuller, uploaded October 24, 2011.
As something of a collector's item, CorydorasWorld.com supremo Ian Fuller introduces a fascinating little catfish that ins't a Cory - or even close!
This little Catfish excited me the second I first saw it whilst unpacking a shipment of fish that had arrived from southern Colombia. Its diminutive size and delicate looks were something that appealed to me straight away. There were only nine fish in the bag, and all of them were around the same size at 45 to 50 millimeters standard length. They also looked to be fully mature specimens, something that also appealed to me, as I do have an affinity with small fishes and these would certainly fit into my fish house set up.
The group were immediately put into a small quarantine tank to be checked out for a few days to make sure there were free of parasites and feeding well before heading to my fish house. In the quarantine tank they acted like most bottom dwelling catfish finding the darkest area to congregate in, only becoming active when food was introduced. Looking at the slender elongate body shape and the broad mouth they looked to be a typical ambush predator, but at that size the foods that seemed to fit the bill were Daphnia, glass worm, blood worm, which they took to straight away. They were also offered small manufactures sinking granular foods, which they also took to without any hesitation and were soon swimming around with their bellies full and well distended.
After ten days or so I decided they in the clear in regard to carrying any unwanted guests and decided it was time to take them home. I did spend a long time trying to decipher any sexual dimorphic characters, but I could not see anything distinctive at all, so in good old cory fashion I selected three fat ones and three thin ones and took them home. The quarantine tank was plain bottomed, but the tank that I put aside for them in may fish house has a substrate of fine sand about a centimeter deep, a perfect choice as it happened, because after a period of acclimatization, the first thing they did once being released from the bag was to dive straight into the sand and out of sight. It was two days before I saw any of them again, and if startled they would dive for cover.
Once were settled they were far less skittish and would not dive for cover quit so quickly. It is quite comical to see them with just their eyes breaking the top of the sand. Looking at the position and shape of the eyes it is easy see they would be happy buried in sand. Another striking feature with these little fishes is the extremely long pectoral and anal fin spines, which they will often sit, perched up on as though waiting for something to come within range so they can pounce on it.
The exact collection location for this group is not known at this time. They were shipped from Bogota, Colombia, but that is no real indication of their actual distribution. A little research shows that they are fairly wide spread, from Eastern Colombia, Venezuela, (Rio Orinoco basin), Brazil, (upper Rio Amazon tributaries) and Guyana. There are no known breeding accounts for this species, but I will be keeping a very close watch on my group and making notes of their activities.
Cat-eLog Data Sheet
Scientific Name
Mastiglanis asopos Bockmann, 1994
Common Name
Type Locality
Igarapé Saracazinho, tributary of Rio Trombetas, near Porto Trombetas, Pará State, Brazil.
Etymology
Greek, mastax, -agos = bite + Greek, glanis = a fish that can eat the bait without touching the hook; a cat fish.
Articles
Species Information
Size
66mm or 2.6" SL. Find near, nearer or same sized spp.
Habitat Information
Distribution
South America: Amazon, Capim and Orinoco River basins.
Amazon (click on these areas to find other species found there)
Orinoco (click on these areas to find other species found there)
Amazon, Lower Amazon, Guamá, Capim (click on these areas to find other species found there)
Amazon, Upper Amazon (click on these areas to find other species found there)
Amazon, Middle Amazon (Solimoes), Negro (click on these areas to find other species found there)
Amazon, Middle Amazon (Solimoes), Preto da Eva (click on these areas to find other species found there)
Amazon, Lower Amazon, Trombetas (click on these areas to find other species found there)

Log in to view data on a map.
IUCN Red List Category
Not Evaluated
Husbandry Information
Breeding Reports
There is no breeding report.
Further Information
Reference
Proceedings of the Biological Society of Washington v. 107 (no. 4), pp 762, Fig. 1.
Registered Keepers
Keeping this species? Why not .
There is no registered keeper.
Wishlists
Love this species? Click the heart to add it to your wish list.
There is no wish to keep this species.
Spotters
Spotted this species somewhere? Click the binoculars!
There are 2 records of this fish being seen, view them all.
Forum BBCode
More on Mastiglanis asopos
Look up Mastiglanis asopos on AquaticRepublic.com
Look up Mastiglanis asopos on Fishbase
Look up Mastiglanis asopos on Encyclopedia of Life
Look up Mastiglanis asopos on Global Biodiversity Information Facility
LFS label creator.
Last Update
2020 Sep 28 07:19 (species record created: 2011 Oct 24 08:31)

Copyright information for the images used in this article can be found on the species' full Cat-eLog page.
Back to Catfish of the Month index.