Hi folks, first post here. I've had four wild-caught Synodontis for a few years, imported and sold as multipunctatus. I've learned during this time about the common confusion between them and the recently described S. grandiops species, and have tried inconclusively on several occasions to determine which I have. I've had a devil of a time getting a pic clear enough for me to count 6 rays, let a lone 7 or 8, on the pectoral fins. (I would probably need to inspect a dead fish to get it right.)
I'm interested to know how the experts here would rate the eye-to-snout ratio on the adult below, and what you are measuring... eg: for the eye measurement do you measure the distance between the outer edge of the eyelids. or the inner? for the snout length are you measuring from the outer edge of the eyelid to the tip of the snout? at an angle, or do you triangulate and take the 'x' axis (vs. the hypothenuse, or 'angled' measurement)?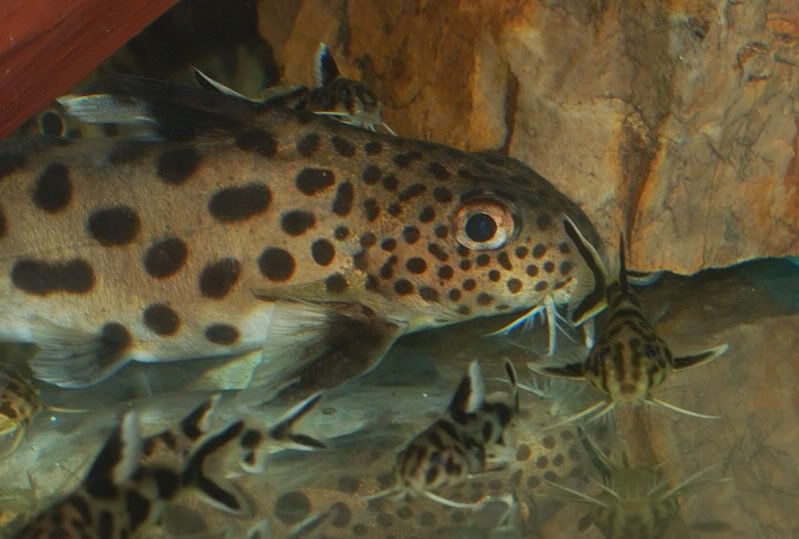 I come up with someting around 0.8 for the ratio - which suggests grandiops I believe?
As you can see, they have been breeding (actually they've been breeding fairly regularly). If they are in fact S. grandiops I would like to properly sell the offspring as such. The only party I've sold any to thus far as multipunctatus is the importer/dealer who sold me the w/c's as multipunctatus; and while the mislabelling of these fish may already be widespread in the hobby I would really prefer to get it straight...
Thanks,