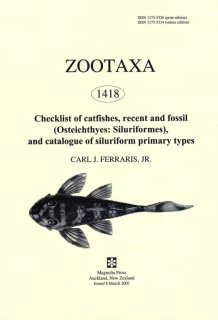 | | |
| --- | --- |
| Title | Checklist of catfishes, recent and fossil (Osteichthyes, Siluriformes) and catalogue of siluriform primary types |
| Author & (Publisher) | Ferraris, C. J. Jr. (Magnolia Press, 2007) |
| Price | £60.00 |
| Subject Matter | As titled |
| Edition | 1st, English |
Article © Heok Hee Ng, uploaded June 03, 2007.
This is a serious volume for the serious catfish enthusiast. If you are into the taxonomy of catfishes and like information such as type localities and the authors and years of publication of species names, this compendium of 4624 nominal (and 3093 valid) species of fossil and living catfishes my just be the thing for you. Be forewarned that this being a scholarly work, there are no pictures whatsoever in this work (it is after all, a checklist). A pdf version of the book is downloadable from the All Catfish Species Inventory website , in case you would like a preview of its contents.
Hits: 7674
Back to Book Reviews index.