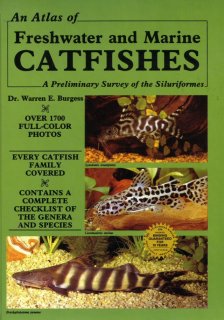 | | |
| --- | --- |
| Title | An Atlas of Freshwater & Marine Catfishes |
| Author & (Publisher) | Dr Warren E. Burgess (TFH Publications, 1989) |
| Price | £39.99 |
| Subject Matter | All catfishes |
| Edition | 1st, English |
Most people would agree that this is THE catfish bible. It covers all 32 catfish families with over 1700 colour (supplemented with more black and white) photos and a generous complement of line drawings.
A brief introduction to catfish anatomy is followed by a section for each family, accounting for about 75% of the book and providing a checklist of all known species at the time of print. Each section also contains a species identification key and varying amounts of species information.
The final quarter of the book gives us the colour photos which are separately indexed. This edition is beginning to show its age taxonomically but this does not detract from the vast wealth of information offered. Not for the Cichlid enthusiast with a few catfish or indeed, as another example, the specialist Corydoras breeder; however if you have several tanks housing all manner of whiskered denizens, this is the book to take you through the many more species you will encounter.
Although the initial outlay may seem high, this book is worth it."
Hits: 9005
Back to Book Reviews index.