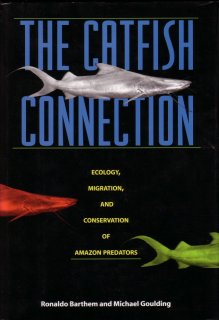 | | |
| --- | --- |
| Title | The Catfish Connection, Ecology, Migration, and Conservation of Amazon Predators |
| Author & (Publisher) | Ronaldo Barthem and Michael Goulding (Colombia University Press, 1997) |
| Price | £29.99 |
| Subject Matter | Large Predatory Pimelodids |
| Edition | 1st, English |
Article © Shane Linder, uploaded January 01, 2002.
The Catfish Connection is based on 17 years of study and explains how the large pimelodids utilize the entire Amazon from the estuary in the east to the base of the Andes in the west during their life cycles. The book is divided into seven chapters which include:
Introduction
Large Fishes of Amazon River Channels
Technology of Catfish Exploitation
Catfish Yields and Value
Migration and Reproduction
Catfish as Predators
Conclusion
Chapter two is quite interesting as it gives Identification, maximum size, range, and habitats for 13 large pimelodids. Among these 13 are all of the large "tankbusters" that are found in the aquarium trade such as Pseudoplatystoma sp. (Tiger shovelnose) and Phractocephalus hemiliopterus (SA red tail). We all think of the red tail as a giant fish, which it is, but it pales in comparison to some of the other predatory catfishes in the Amazon. Brachyplatystoma flavicans reaches 192 cm and B. filamentosum 280cm! The red tail maxes out at 110 cm.
The chapter on Migration and Reproduction is interesting, but sadly, offers little information of use to aquarists. While the authors were able to collect a lot of information of migration, they were unable to locate the exact sites where these large predators spawn. The most useful chapter in the book for aquarists is chapter 6. Everything you could want to know about feeding large pimelodids can be found in this chapter. So what do the big predators eat? Included in chapter six are detailed gut content analysis for 5 large pimelodids.
The Catfish Connection is a fascinating book and I would highly recommend it for those aquarists interested in the large pimelodid predators. In short, what an interesting book!
Back to Book Reviews index.