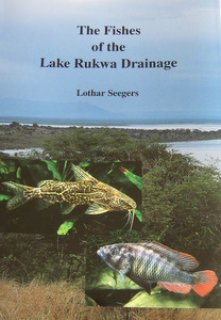 | | |
| --- | --- |
| Title | The Fishes of the Lake Rukwa Drainage |
| Author & (Publisher) | Dr. Lothar Seegers (Drukkerij Orientaliste, Herent, Belgium, 1996) |
| Price | £38.50 |
| Subject Matter | As titled |
| Edition | 1st, English |
Article © Birger Kamprath, uploaded January 10, 2009.
This is a small gem of an area within the East African Rift system that is overshadowed by some of the better known larger lakes, this small region is east of the southern end of Lake Tanganyika and north of Lake Malawi. The Lake Rukwa drainage represented in this book is of particular interest because it is a closed system, presently there is no direct link to any of the surrounding watersheds.
This book takes you through a very logical discussion encompassing the history of the geological and ecological changes the area has gone through leading up to the development of the present day ichthyofauna. There is habitat information throughout and a number of helpful photos showing different environments within the drainage.
64 species of fish are listed as known from the area with many noted as endemic. There is a checklist and a key that takes you to the generic level. This book does not cover aquarium care at all but is much more valuable for the amount of detailed information given for each species. There is no such thing as a quick overview in this book. Generally there are at least two pages for each fish with some, such as Synodontis fuelleborni having five full pages dedicated to this one species alone. There is a mix of drawings and photos with multiple pictures for many species. For the catfish enthusiast, there is one Schilbeid covered, three Amphiliidae, Clariidae has four representatives and Mochokidae has the most with ten.
Considering this book just covers a small specific area, it is still one of my favorites as it is presented so well, 30 cm. tall with 407 pages full of useful and interesting information on a subject I can not seem to get enough of, African fishes.
Back to Book Reviews index.