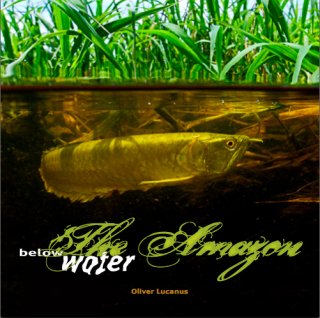 | | |
| --- | --- |
| Title | The Amazon below water |
| Author & (Publisher) | Lucanus, Oliver (Panta Rhei, Germany, 2009) |
| Price | £70.00 |
| Subject Matter | Under(fresh)water photography in South American rivers |
| Edition | 1st, English |
The first thing that struck me about this book was its weight. With the possible exception of Koning's seminal but ridiculously sized Fishes of Lake Malawi book this has to be about the most massive of modern fish books I've ever held. Closed, it is square in aspect and, while anyone can make a book big, at least from the cover I saw something of a stylish looking thing. It's big but not brash, although you would do well to sit down when reading it. Knowing the frequency with which the author had made many visits to South America, after a quick peek, I was keen to read of his exploits.
The general format is geographically based with cut out text and large, often two page images. Each Chapter is a different local grouped by river system. Some of the pictures are remarkable, either because they are just beautiful things to look at, because you've not seen the like before. There are some that capture the unusual side of animals behavior too. That said, in today's high definition world a few of the images are a little grainy and, despite some unobtrusive use of style, don't sit well on such large pages. However, there is little out there to compare with most of these pictures. And the pictures are the thing, this is a gallery book, the words exists with little more use than to place the pictures in context.
It seems this books purpose is to "get them out there", to show these places while they still exist in such form, or at least record that they did. Jacques Cousteau didn't wait around for HD, he got out there and filmed with what was there. Many of the natural wonders of the sea were documented for our attention in doing so. I do not mention Cousteau lightly, with the exception of Gouldings "Flooded Forest" video work, and a few pictures from Takashi Amano, this book looks closely at underwater worlds that have not really been looked at like this before. Maybe better pictures might, and I mean might, be taken in future — it's a boon to have anything at all — and many in the book are perfect. The size of the book means we are viewing in widescreen, and not all biotopes are clearwater after all.
I strongly identify with this book because I've been to some of these places. However, what if you've not seen these parts of the world? Actually, I think this might be the books purpose. It serves to show the viewer, as opposed to educate the reader, the diversity of habitat, the fragility of each and every intertwined organism in those places and aims to inspire. Its reach is broad, covering twenty places from the upper Amazon in Peru to the Orinoco's Rio Atabapo and while majoring on life below water, primarily that which has fins, it covers the wider flora and fauna too. In total 142 fish species (numerous catfishes, of course!) and 16 animal species not including the humans.
This is an expensive book. Relative to the costs of travel, it's cheap. In my view, it may move a few aquarists to be naturalists; I think it will certainly provide inspiration to aquatic biotope modelers and, as a traveler, it's the next best thing to a teleport. I am looking forward to the scratch and sniff version! I personally love stealing a few minutes with the book, idly flicking through it. The perfect antidote to a dull, wet Scottish Sunday. For others, if you're into freshwater tropical fish and the wider nature of these regions, you will treasure this book and its fish eye views.
The book can be purchased direct in North America and can be shipped from the publisher for Europe & Asia.
Hits: 8426
Back to Book Reviews index.