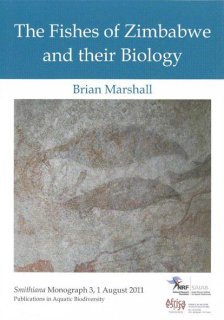 | | |
| --- | --- |
| Title | The Fishes of Zimbabwe and their Biology |
| Author & (Publisher) | Marshall, Brian (South African Institute for Aquatic Biodiversity, 2012) |
| Price | £37.50 |
| Subject Matter | A guide to Zimbabwean fishes. |
| Edition | 1st, English |
Zimbabwe has seen problems in recent years. Since around 2000, the country has been a no-go area for tourists due to political unrest. Fortunately, I was lucky enough to visit this beautiful land in both 1992 and 1996. I visited Lake Kariba - a large man-made hydroelectric dam - and parts of the Zambezi river, catching barbel (Clarias gariepinus), squeaker (Synodontis zambezensis) tigerfish (Hydrocynus vittatus), chessa (Distichodus schenga) and bream (Tilapia spp.) along the way. Hence, I maintain an interest in the fishes of Zimbabwe to this day.
With this in mind I eagerly awaited my copy of The Fishes of Zimbabwe and their Biology by Brian Marshall. I didn't know what to expect, but I was gladly not disappointed. The book can be considered a general reference guide; it is not bogged down with too many dry taxonomic details, but neither is it cursory (nearly 300 pages). The book starts by outlining the climate, history, geography and conservation issues of the region, and continues with a well organised species-by-species account of the fishes known. A colour illustration or photograph of each is provided, as well as a morphological description, and importantly, the features distinguishing it from similar fishes. However, the real strength of the book is in the second part of its title, the biology. The clearly knowledgeable author has combined years of experience with a thorough compilation of literature to provide a detailed review of the ecology, biology, and economic importance of Zimbabwean fishes; interesting nuggets of information abound.
All very well you might say, but what use is this book to the average aquarist? Well, currently there isn't exactly many species from Zimbabwe in the trade, but as documented in this book, there are plenty of desirable ornamental species in the country. For example, I was particularly taken by the fantastically named "sand catlets" (Zaireichthys spp.). These diminutive but pretty catfishes would certainly be a jewel in any enthusiast's collection, as would some of the attractive Synodontis (e.g. S. macrostoma), or smaller Clarias (C. liocephalus or C. theodorae) from the country. There are also lots of small cyprinids, characiforms, cyprinodontiforms and mormyrids with great aquarium potential. As trade opens up in the future, we could see a local entrepreneur take advantage of this?
Regardless, hopefully one day I can return to Zimbabwe once again to enjoy the fishes and the excellent hospitality. This book will be an essential accompaniment.
Hits: 4405
Back to Book Reviews index.