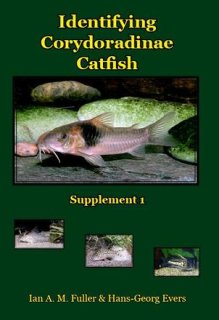 | | |
| --- | --- |
| Title | Identifying Corydoradinae Catfish Supplement 1 |
| Author & (Publisher) | Ian A. M. Fuller & Hans-Georg Evers (Ian Fuller Enterprises, 2011) |
| Price | £20.00 |
| Subject Matter | Additional described species, C and CW numbers not discussed in the first book |
| Edition | 1st, English |
Article © Heok Hee Ng, uploaded November 26, 2012.
The original installment of this book (Identifying Corydoradinae Catfish) is de facto the best book for identifying these popular catfish. Half a decade has elapsed since its publication, however, and given the rate at which new corydoradines are being introduced into the aquarium trade, an update is plainly necessary.
This book is structured just like its predecessor, with each species getting its own page or two. Information such as distribution, etymology, and size is also presented, along with remarks such as the authors' opinion on the validity of the species and the status of the species in the aquarium trade. In the same manner of its progenitor, color photos, usually of live aquarium specimens, amply illustrate each account.
A total of 86 species are covered in this update, which include new species of corydoradine catfishes described from 2005—2009, 15 C-number- and 60 CW-number corydoradines. The latter is a naming convention introduced by one of the authors (Ian Fuller) for species in the aquarium trade that have neither been formally named nor assigned a C-number.
To round off things, there is a chapter on corydoradine evolution, ecology and taxonomy by Markos Alexandrou and Martin Taylor at the end of the book. This chapter summarizes recent research on the evolution and ecology of corydoradines carried out by these two scientists from Bangor University, and makes for interesting reading (especially for those with no access to the original papers).
If you already have the first book, this supplement is a highly recommended purchase that would update your library and allow you to keep abreast of the constant plethora of corydoradines entering the aquarium trade.
Back to Book Reviews index.