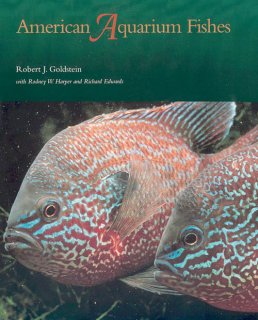 | | |
| --- | --- |
| Title | American Aquarium Fishes |
| Author & (Publisher) | Goldstein, Robert J. with Harper,Rodney W. and Edwards, Richard (Texas A&M University Press, 2000) |
| Price | £29.99 |
| Subject Matter | North American freshwater aquarium fish |
| Edition | 1st, English |
Article © Heok Hee Ng, uploaded January 01, 2002.
If you are into maintaining North American freshwater fishes in the aquarium, this book has the potential of being a cherished bible for years to come. The book is a hefty 428 pages, and is sprinkled with photographs, the most notable of which are a series of 118 color photographs in the center of the book. The book covers almost all aspects of keeping North American native fish, right down from how to collect your own fishes, a state-by-state account of the legality of collecting native fishes, to the correct species of aquatic plants to maintain in your North American biotope tank.
The section on ictalurid catfishes covers only the husbandry of madtoms (Noturus) in the aquarium; the larger ictalurids, i.e. the flathead catfish (Pylodictis), channel catfish (Ictalurus) and bulheads (Ameiurus) are glossed over, with the statement that these grow too large to maintain in the average aquarium. While this is probably the most reasonable thing to do, it would have been nice to include at least some notes on maintaining these fish in aquaria. The husbandry information for madtoms are listed by species and fairly detailed for some of the more commonly-encountered species. Tips are also given on how to induce spawning in madtoms.
This book has the makings of a classic and I strongly recommend it to anyone interested in keeping North American native fishes.
Hits: 5902
Back to Book Reviews index.