L010, Musehoved-sugemalle (Denmark), Xingu Lipbrooder - Loricaria birindellii Thomas & Sabaj Pérez, 2010
Article © Julian Dignall, uploaded October 07, 2018.
In 2015, I travelled to Brazil's Rio Xingu to see it for myself, I wanted to experience and understand it a little before the calamitous Belo Monte dam wipes out sections of the river and its many endemic fishes for good. This is, by extension, is the continuation of wanting to understand biotopes, what fishes live where and what do they do there. What I got was a startling insight - I found out that the Rio Xingu is all the tropical rivers I ever met, in one.
We found slow water over sand, incredibly deep fast water, shallow hot pools of water over rocks, we found rock islands, fish havens isolated in the current, cobbled shallows and roaring waterfalls. All have their own species and many of those species are found only in the Xingu. This is true of many biodiverse rivers, but in the Xingu the clear water and abundance of life turns it up to eleven.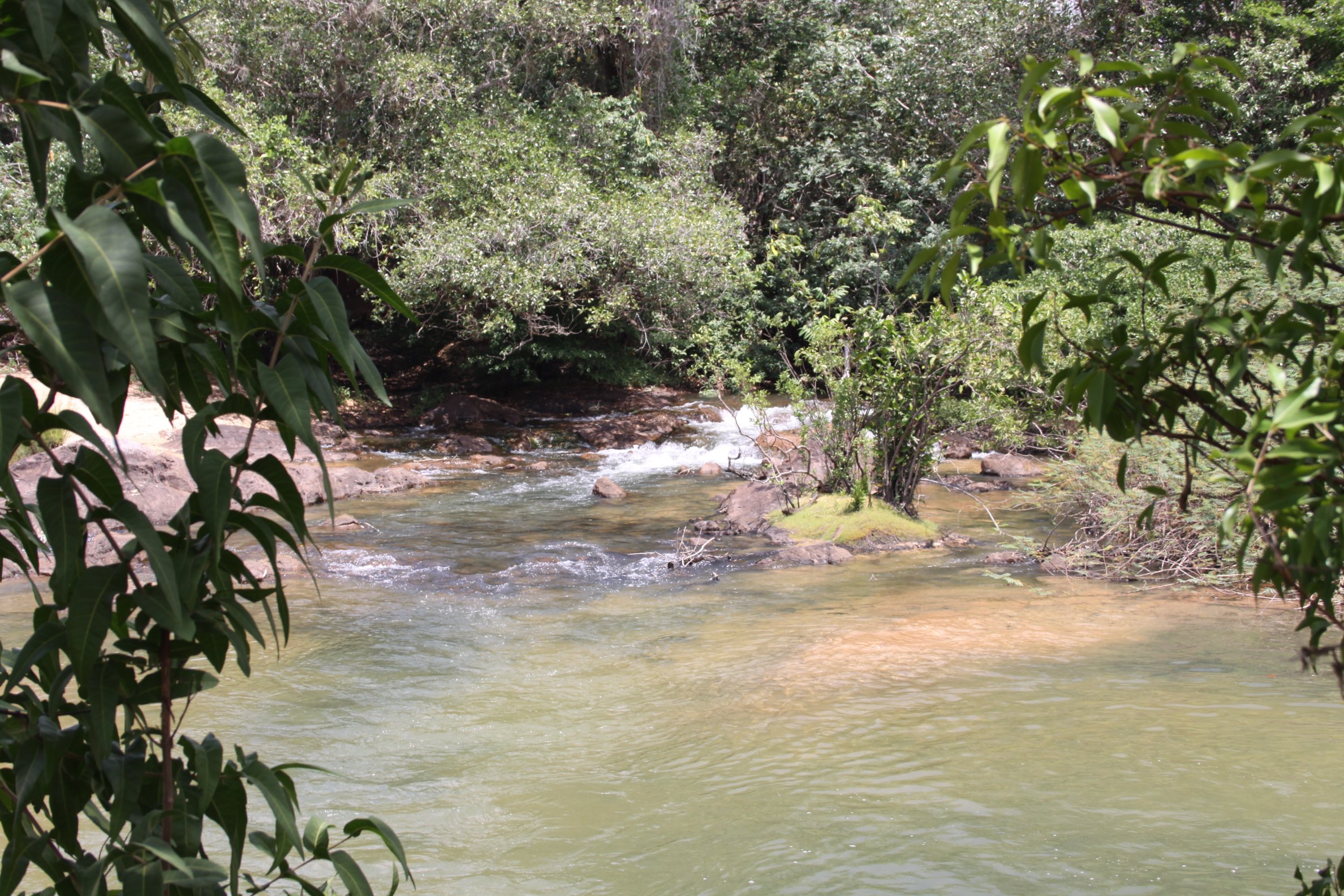 The pool in a river within a river.
Just a few hundred miles of river throws up so many ways to make an aquarium. Over a decade ago now, Norwegian aquarist Håvard Støre Andresen nailed the classic Xingu igneous rock and sand biotope. This month's species lives in a rather different world. Less torrent, no rocks and leaf litter and some sunken wood. But, nevertheless it is an indigenous Xingu fish like so many others in that place, it's found a place to live and adapted.
To the left is a picture of where it lives. It looks like a pretty stream bubbling through the forest and flowing through a placid pool. What is not apparent, even when standing there, is that this place is on an island in the mid of the Rio Xingu main channel. Only 30 metres away the river is charging past at such a rate that makes this little tranquil oasis seem entirely out of place. Indeed, the seasonal rains will come and the river will rise and rage. This little place may not be seen again, or it might just re-emerge next year and look about the same.
I went snorkelling in this pool and managed to spot a fine specimen of one of the common Xingu whiptails, Loricaria birindellii. It was perfectly camouflaged in this leaf litter where dark and light leaves are scattered in about one and a half meters of water. An excellent nursery too, but I didn't encounter any young this time.
L010 is an interesting l-number from way back in the early 1990's when they were first introduced. For a while we thought it was Loricaria lata, but, as with many species of armoured catfish in that river, it turned out to be a species only found there. In terms of exports, this whiptail only turns up from time to time as smaller individuals and, as with all Loricaria, is a lipbrooder and the keeper should have a reasonable chance of breeding them with a good sized aquarium for a pair or a group with a male and some females.
Cat-eLog Data Sheet
Scientific Name
Loricaria birindellii Thomas & Sabaj Pérez, 2010
Common Names
L010, Musehoved-sugemalle (Denmark)
Xingu Lipbrooder
Type Locality
Rio Curuá, Iriri-Xingú drainage, near town of Castelo dos Sonhos, 8°19'07"S, 55°05'23"W, Altamira Municipality, Pará State, Brazil.
Pronunciation
lorry CAR ee ah
Etymology
(Latin)Lorica, Loricare = cuirass of corslet of leather (a suit of armour made of leather).
Articles
Species Information
Size
239mm or 9.4" SL. Find near, nearer or same sized spp.
Identification
When young, Loricaria spp. can be differentiated from the similar Rineloricaria spp. by their more feathered sucker-mouths. In adults this difference is considerably more evident.
Habitat Information
Distribution
South America: Brazil, Pará, Altamira Municipality, Rio Curuá, Iriri-Xingu drainage, near town of Castelo dos Sonhos
Amazon, Lower Amazon, Xingu, Iriri (click on these areas to find other species found there)
Amazon, Lower Amazon, Xingu, Iriri, Curuá (Iriri) (click on these areas to find other species found there)

Log in to view data on a map.
IUCN Red List Category
Least Concern, range map and more is available on the IUCN species page. Last assessed 2018.
Husbandry Information
Breeding
Unreported but will, very likely, be a lipbrooder.
Breeding Reports
There is but a single breeding report, read it here.
Further Information
Reference
Copeia 2010 (no. 2), pp 276, Figs. 2, 3B, 4B-C, 5, 6.
Registered Keepers
Keeping this species? Why not .
There are 3 registered keepers, view all "my cats" data.
Wishlists
Love this species? Click the heart to add it to your wish list.
There is no wish to keep this species.
Spotters
Spotted this species somewhere? Click the binoculars!
There are 6 records of this fish being seen, view them all.
Forum BBCode
More on Loricaria birindellii
Look up Loricaria birindellii on AquaticRepublic.com
Look up Loricaria birindellii on Fishbase
Look up Loricaria birindellii on Encyclopedia of Life
Look up Loricaria birindellii on Global Biodiversity Information Facility
LFS label creator.
Last Update
2022 Jan 13 12:35 (species record created: 2018 Oct 07 08:59)

Copyright information for the images used in this article can be found on the species' full Cat-eLog page.
Back to Catfish of the Month index.