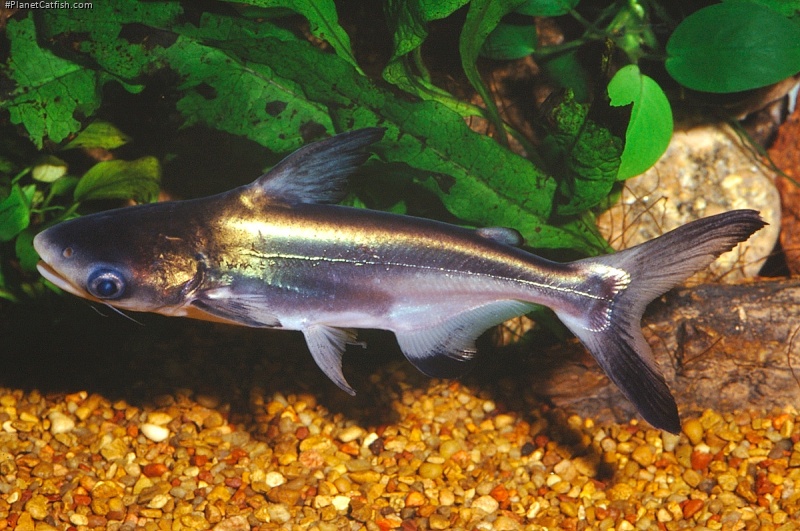 Paroon Shark, Chao Phraya Giant Catfish, Dog-eating Catfish, Langfinnet Hajmalle (Denmark), Pangasid-catfish, Paroonhaj (Sweden), Pla Tepa (Thai), Pla Thepa - Pangasius sanitwongsei Smith, 1931
Another month and another guest catfish of the month. Shane Linder is taking some time off from organizing our "Shane's World" section to introduce this magnificent catfish. Shane takes a different tack with this fish, which is a true giant of Asian waterways, and explains why it isn't one for the home aquarium.
All Pangasiids are large catfishes with most species attaining at least 50 cm or more which does not lend them to aquarium maintenance. Many are also schooling and thus need to be kept in groups which further precludes their captive care. A recent arrival on the aquarium scene is Pangasius sanitwongsei, the Paroon. This species is distinguished from other members of their genus by the first few tips of the anal-fin rays which are black, particularly in juveniles
P. sanitwongsei was originally described by Smith in 1931, the type locality being Koh Yai, Central Thailand (Siam), also described (in the same publication) at this time was Pangasius beani, type locality being the Lopburi River. 60 years later, Roberts (1991) declared the type for P. beani to actually be a juvenile P. sanitwongsei. Also of interest is that Roberts (1991) was unable to locate the holotype which was listed as stored at the "Siamese Dept. of Fisheries". The holotype could not be found at the Department.
This is a food fish and is commonly taken with seines, gill-nets, or hook and line then marketed fresh. Prior to 1997 this fish was rare in the aquarium trade. Those that made it into the trade were usually by-catch of South East Asian shipments. This fish is now farmed in ponds for food and those specimens appearing in the aquarium trade come from fish spawned for aquaculture. The fish's flesh is considered inferior to that of other Pangasiids. This based in part on the feeding habits of the fish. It is reputed to have a fondness for dogs whose floating carcasses are common in the rivers during the wet season.
The fish spawns just before the rainy season and the young of the year reach a length of about 10 cm by mid-June. According to an old fisherman (Smith, 1945), the fish does not enter the swamp during the annual inundation, but is instead found in the large rivers near the outlets of the swamp. 250 cm is the largest fish measured, however, according to Smith many people could remember having caught specimens as large as 300 cm. A 3 meter long fish would be a meter thick! P. sanitwongsei of this size have not been seen since the early 1920's. The fish stays in the deepest parts of the largest rivers and thus is rarely caught in the wet season. Warning! Due to the fish's formidable pectoral spines, it is always handled with great care by fishermen. In 1925 a 2.5 meter fish was caught in a cast net above Raheng, Thailand. When the fisherman dived to clear the net the fish inflicted a deep stab wound in the man's side. The man died from the wound.
This is most certainly not a fish for any size tank. Not even the largest public aquaria could house these giant, migratory cats. All of the Paroons imported for the aquarium trade will die premature deaths. So spread the word to hobbyists and unknowing retailers alike that this fish should never be ordered or purchased as its maintenance requirements are beyond the dedication of any aquarist. If no one bought them, they would quickly become increasingly infrequently offered for sale.
Sources:
Rainbooth, W. J. "Fishes of the Cambodian Mekong" Food and Agriculture Org. of the UN: 1996.
Roberts, T. R. "Systematic Revision of the Asian Catfish Family Pangasiidae with Biological Observations and Descriptions of Three New Species" Proceedings of the Academy of Natural Sciences f Philadelphia," 143: 97- 144, 1991.
Smith, H. M. "The Freshwater Fishes of Siam or Thailand" Smithsonian Bulletin 188: 1945.

Copyright information for the images used in this article can be found on the species' full Cat-eLog page.
Cat-eLog Data Sheet
Scientific Name
Pangasius sanitwongsei Smith, 1931
Common Names
Paroon Shark
Chao Phraya Giant Catfish, Dog-eating Catfish, Langfinnet Hajmalle (Denmark), Pangasid-catfish, Paroonhaj (Sweden), Pla Tepa (Thai), Pla Thepa
Type Locality
Menam Chao Phraya R. at Koh Yai, cent. Thailand.
Synonym(s)
Pangasius beani
Pronunciation
Pang ah see uss - san its wong aye
Etymology
The name Pangasius comes from a local (Bengali) name of the fish (pungas).
Species Information
Size
2500mm or 98.4" SL. Find near, nearer or same sized spp.
Identification
Shows a black dorsal fin extension from about the 40mm size onwards. Sadly an artificially developed "balloon" form has been introduced into the hobby perhaps to combat the fishes large adult size.
Sexing
No recorded visible sexual differences.
Habitat Information
Distribution
Vietnam, Thailand, Kampuchea (Cambodia), and Laos in the Mekong and Chao Phyra basins
Thailand Waters, Chao Praya (click on these areas to find other species found there)
Mekong (click on these areas to find other species found there) (Click the map-icon to show/hide map of species distribution)
IUCN Red List Status
Critically Endangered
pH
6.5 - 7.5
Temperature
24.0-27.0°C or 75.2-80.6°F (Show species within this range)
Other Parameters
Will easily adapt to "normal" conditions (pH 6.5 - 7.5) and soft to medium hard water.
Husbandry Information
Feeding
Will accept pellet and flake food(when young) in captivity. In the wild both young and adults feed on fishes and crustaceans. Examination of two young specimens (60 and 80 cm) had only small fishes in their stomachs. The larger fish had eaten three Pangasius macronema of 15 - 20 cm each, one Belodontichthys (a predatory silurid catfish) and one small cyprinid. Larger individuals will take the carcasses of fowl or dogs (commonly used for bait).
Furniture
Needs vast amount of open space for swimming room and some plants to help reduce the nervous nature of the fish.
Compatibility
Not recommended for home aquaria.
Suggested Tankmates
Not recommended for home aquaria.
Breeding
Unknown
Further Information
References
Proc. U. S. Natl. Mus.v. 79 (no. 2873) - pp29 - Figs. 13-14
Registered Keepers
(1) arapaima, (2) brettwms75, who also notes: "It's so hard to keep their fins nice. Depending on space and diet they are very nippy with each-other. They're always chewing one anothers fins off. When I have more room I hope I can order more!", (3) kntrygrl4lyfe (k: 3), (4) Occellatus, (5) Sinblesser, (6) RedTail Cat, (7) Young_Yacht, (8) jessey, (9) howdenend (k: 2), who also notes: "Both currently about 12" and seem so far to be pretty straight forward to look after. Favourite food is definately king prawn (expensive taste!)", (10) michiganraised, (11) jakepittbull, (12) arapaimag (k: 12), (13) agusmeteor (k: 8), (14) jmtjoy, (15) Alf Alf (k: 2), (16) ChanelGreen, (17) TheBobbyVee (k: 2), (18) Fishmandavew, (19) angerygrover.

Click on a username above to see all that persons registered catfish species. You can also view all "my cats" data for this species.
Breeding Reports
None.
Articles
More on Pangasius sanitwongsei
Look up Pangasius sanitwongsei on AquaticRepublic.com
BBCode
(use in forum posts)
(species permalink)
Look up Pangasius sanitwongsei on Fishbase
Get or print a QR code for this species profile, or try our BETA label creator.
Hits
20005 hits.
Last Update
2014 Oct 27 14:27 (species record created: 1999 Feb 01 11:22)
Hits: 20005
Back to Catfish of the Month index.