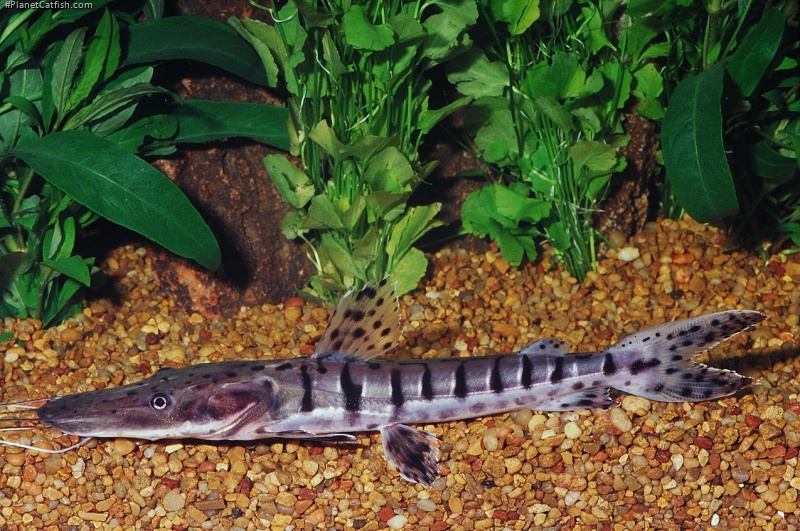 Tiger Shovelnose Catfish, Tsn (Abbreviation) - Pseudoplatystoma tigrinum (Valenciennes in Cuvier & Valenciennes, 1840)
The photo above is an 18" specimen. I took this photo in the middle of a yawn (the catfish, not me). I was a great fan of keeping these large catfish until I visited the Tennessee Aquarium in Chatanooga, USA. They had an enormous Amazon species tank which is pictured in the photo on the right. The tank was inhabited by, amongst others, the pictured tiger shovelnose, an adult red-tailed catfish, shoals of oscars (which were the smallest fish in the tank!), eye spot cichlids (Cichla ocellaris) and arrowana. To see a full-grown Tiger shovelnose cruising effortlessly without havng to turn round every 3 seconds made up my mind about keeping these and some other large catfish in anything smaller than a big pond. I remain a great fan.".

Copyright information for the images used in this article can be found on the species' full Cat-eLog page.
Cat-eLog Data Sheet
Scientific Name
Pseudoplatystoma tigrinum (Valenciennes in Cuvier & Valenciennes, 1840)
Common Names
Tiger Shovelnose Catfish
Tsn (Abbreviation)
Type Locality
Brazil.
Synonym(s)
Platystoma tigrinum
Pronunciation
SUE doh plah tee stow mah
Etymology
(Greek)Pseudos=False +(Greek)platys=flat +(Greek)stoma=mouth.
Species Information
Size
1050mm or 41.3" SL. Find near, nearer or same sized spp.
Identification
Vertical to slightly oblique black stripes; often has spots, which are thicker on the ventral side; great variation in stripe and spot patterns. Eigenmann recognized at least 14 varieties or subspecies based on colour patterns; easily confused with other members of the genus.
Sexing
Unknown
Habitat Information
Distribution
Widespread in the Amazon and Orinoco Basins
Amazon (click on these areas to find other species found there)
Orinoco (click on these areas to find other species found there) (Click the map-icon to show/hide map of species distribution)
pH
6.0 - 7.6
Temperature
22.0-26.0°C or 71.6-78.8°F (Show species within this range)
Husbandry Information
Feeding
Fish, crustaceans and literally anything that it finds tasty and small enough to eat. I have personally witnessed one of the fish pictured above eat a large freshwater stingray head first!
Furniture
Large secured pieces of bogwood and rock.
Compatibility
Will eat anything that isn't big enough to avoid being on the menu.
Breeding
Unknown
Further Information
References
Hist. Nat. Poiss.v. 15 - pp10 - Pl. 422
Registered Keepers
(1) arapaima, (2) roy.bryan, (3) bukster, (4) Occellatus, (5) kntrygrl4lyfe, (6) stinkray, (7) RedTail Cat (p: 2), (8) jvancan, (9) chillired, (10) artemis1, (11) Junttis, (12) steelhead99, (13) Plunt, (14) joe.juice13, (15) Matt123, (16) vyperboy, (17) Shovelnose, (18) blurock, who also notes: "Name: General Lee", (19) doesdavid, (20) Sumners83 (p: 2), (21) RedTailMike, (22) flyin lizard, (23) tezr, (24) tank_girl, (25) phenix, (26) SoCalDiscus, (27) lissaspence, (28) jprp, (29) ndcp18, (30) exoticfish, (31) danny.450, (32) oscar300, (33) miles3, (34) Mqktandy, (35) musilvr4eva, (36) mrfishydude, (37) Reginator, (38) shivamotiram, (39) danlinn, (40) d3n2, (41) Macat33, (42) Buddiechrist, (43) arapaimag (k: 6), (44) fleshwound, (45) Marisco1729, (46) einstein-a-go-go, (47) Kataterfish, who also notes: "N/a", (48) luv4bigcats, (49) Blackguard, (50) Pcpolo111, (51) slayer5590, (52) Animusartificio (k: 6), (53) liamirons, (54) chewy922, (55) PurecoYSS, who also notes: "A constant excuse to get a bigger tank.", (56) TheFishGuy, (57) GOCrocket, (58) firman catfish, (59) TheBobbyVee, (60) Stalin (k: 3), who also notes: "Got them at about 3.5" and two of them have quickly grown into little 7" monsters. The third one wasnt very aggressive when feeding so he didnt get as much food. He got to a bit under 6" and was sold on 2016/10/29. Hoping to Sell the remaining two in the next month or so. They are feeding on chopped fish/shrimp and occasionally live fish. Very fun fish to keep (even for a very short time) and I wish I had the time and space to keep them a lot longer.", (61) angerygrover.

Click on a username above to see all that persons registered catfish species. You can also view all "my cats" data for this species.
Breeding Reports
None.
Articles
More on Pseudoplatystoma tigrinum
Look up Pseudoplatystoma tigrinum on AquaticRepublic.com
BBCode
(use in forum posts)
(species permalink)
Look up Pseudoplatystoma tigrinum on Fishbase
Get or print a QR code for this species profile, or try our BETA label creator.
Hits
11061 hits.
Last Update
2014 Apr 23 08:48 (species record created: 1998 Mar 01 11:22)
Hits: 11061
Back to Catfish of the Month index.