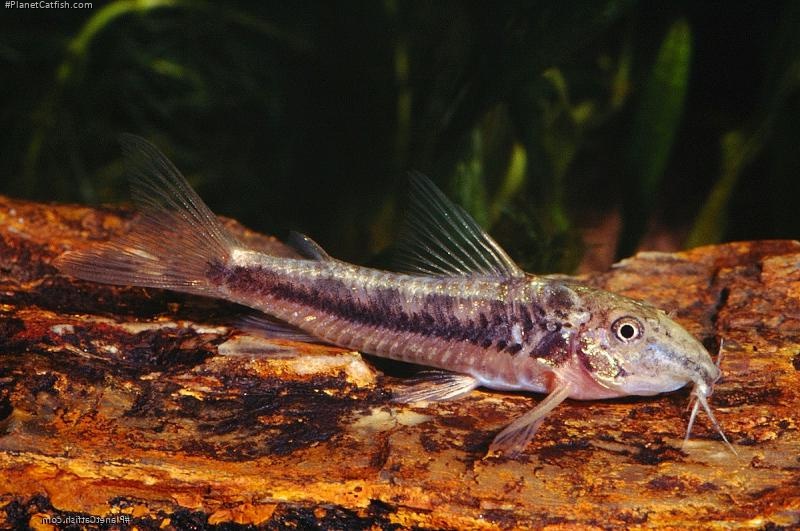 C015, Lacerda's Cory, Lacerdas Pansermalle (Denmark) - Scleromystax lacerdai (Hieronimus, 1995)
Article © Julian Dignall, uploaded August 03, 2013.
Among the weirdest of the 'odd Corys' is Scleromystax lacerdai; first bred in Scotland in the early nineties by long-time fishbreeder Jim Makin. This is indeed an odd-looking 'Cory': it's very, very elongated. If you think about it, in profile, a typical cory is about 30% head, 30% caudal (tail) fin and around 40% body. S. lacerdai, on the other hand, is about 20% head, 20% caudal fin and 60% of a long, low, cigar-shaped body. Originally given the C-number C015, it was described by German aquarist Harro Hieronimus in 1995, and named to honour the leading ornamental fish collector Marco Lacerda. Marco collected the fish in the State of Bahia, specifically in the Rio Ribeira da Terra Firme, near the towns of Canavieiras and Ilheus. This is a small Scleromystax and is unlikely to get larger than 60mm.
At an early meeting of the UK's catfish study group I was sitting next to Jim (Scottish Aquarists, rather like Corydoras, tend to shoal together) listening to a talk being given by Harro, and a slide appeared showing the audience S. lacerdai. I didn't need to look at Jim to sense he was on the edge of his seat. Just before Harro was about to move on to the next slide, and Jim was just barely touching his seat, Harro told the audience that this unusual 'Corydoras' had never been bred in captivity. Like a submarine missile emerging from the water, Jim leapt up and said something to the effect of 'I've done it!'. It was a classic fishkeeping moment which managed to be at once hilarious, educational and inspiring all at the same time. Harro continued his talk, but much was discussed around this species and others that weekend.
I attend the same convention these days and now the international interaction of specialist catfish breeders is a given. It's just something the catfish-keeping community now does — to my mind, it is interesting to remember that this 'odd cory' Scleromystax lacerdai, combined with modern technologies like email and web-sites, was perhaps the catalyst of international co-operation between catfish breeders. For Scleromystax in particular, this is important, as these species are relatively easy to breed but with very, very sparse imports from the wild, there is an increasing worry it might be the last.
Cat-eLog Data Sheet
Scientific Name
Scleromystax lacerdai (Hieronimus, 1995)
Common Names
C015, Lacerda's Cory
Lacerdas Pansermalle (Denmark)
Type Locality
Rio Ribeira da Terra Firme, between Canavieiras and Ilheus, se. Bahia, Brazil.
Synonym(s)
Corydoras lacerdai
Pronunciation
ss KLER oh muss tax - lass ERR dye
Etymology
Scleromystax: From the Greek sclero meaning hard and the Latin mystax meaning moustache. Named to honour Mr. Marco T. Lacerda.
Articles
Species Information
Size
55mm or 2.2" SL. Find near, nearer or same sized spp.
Habitat Information
Distribution
South America: Brazil: South East Bahia
Bahia State Rivers, Terre Firme (click on these areas to find other species found there)

Log in to view data on a map.
IUCN Red List Category
Not Evaluated
Temperature
20.0-25.0°C or 68-77°F (Show species within this range)
Husbandry Information
Breeding
Only one success by a Scottish fishkeeper has been achieved if not documented.
Breeding Reports
There is but a single breeding report, read it here.
Further Information
Reference
Zeitschrift Fischk. v. 3 (no. 1) 110 Figs. 5-7
Registered Keepers
Keeping this species? Why not .
There are 8 registered keepers, view all "my cats" data.
Wishlists
Love this species? Click the heart to add it to your wish list.
There is but a single wish to keep this species, see who wants what.
Spotters
Spotted this species somewhere? Click the binoculars!
There are 6 records of this fish being seen, view them all.
Forum BBCode
More on Scleromystax lacerdai
Look up Scleromystax lacerdai on AquaticRepublic.com
Look up Scleromystax lacerdai on Fishbase
Look up Scleromystax lacerdai on Encyclopedia of Life
Look up Scleromystax lacerdai on Global Biodiversity Information Facility
LFS label creator.
Last Update
2022 Feb 04 00:55 (species record created: 2013 Aug 03 09:45)

Copyright information for the images used in this article can be found on the species' full Cat-eLog page.
Back to Catfish of the Month index.