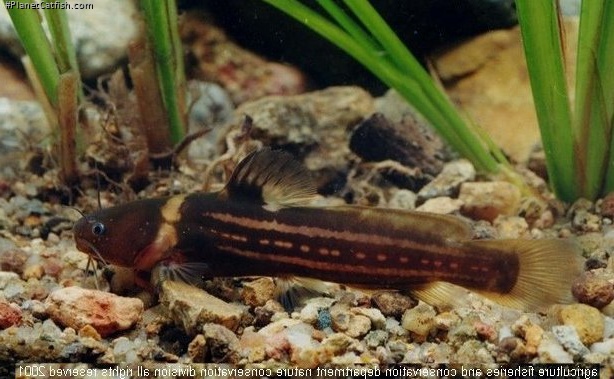 Highway Catfish - Tachysurus trilineatus (Zheng, 1979)
Article © Heok Hee Ng, uploaded June 01, 2006.
In the month where I've been talking a lot about how Planet Catfish is planning for "the road ahead", it seems only right for Heok Hee Ng to bring the Highway Catfish to our attentions in his article on this months featured species.
Most catfishes from temperate climes have usually a dull combination of browns or grays that make them somewhat unattractive (at least in color) to the average aquarist. Now, of course, due to my being a catfish aficionado, I contend that their character make up for this lack of chromatic appeal, but I digress. Imagine my surprise when I was shown a photograph of this attractive little catfish from southern China in 2004 by my friend and fellow fish nut Zhou Hang. OK, I wasn't really that surprised, since the species was described in the late 1970s and I had previously seen a photograph of the live fish on the Internet. Still, it was exciting to see more pictures and I showed them to some of the participants at the First All Aquarium Catfish Convention in Laurel, Maryland in October 2004. Erica Linder (Shane's lovely wife) promptly coined the name "highway catfish" for this fish and it's easy to see why, as the attractive pattern of stripes and dots are strongly reminiscent of road markings.
The fish remained an elusive dream until I was able to acquire some. Though they were not cheap, I have not regretted their purchase. The highway catfish is highly suited for a community tank, since they are peaceful (even among themselves) species that remain fairly small. Since they originate from hill streams, it goes without saying that they are best kept at lower temperatures. Like almost any other bagrid, they are unfussy eaters and will eat a large variety of live, frozen and prepared foods (when they shyly venture forth at feeding time). I found mine to particularly like wedging themselves in a head-up stance amongst either driftwood or thick clumps of java moss during the day (they appear to shun cave-like shelters, in which many other catfishes will gladly wedge themselves into).
Although there are many interesting freshwater fishes in China (particularly in the south), few of them have made it to the aquarium trade until recent years, when the trade in native Chinese freshwater fishes appeared to have increased by giant leaps. The highway catfish is still rare in the trade, but it's hopefully a sign of better things to come for this group of under-appreciated but very interesting (chromatically or otherwise) group of freshwater fishes.
Cat-eLog Data Sheet
Scientific Name
Tachysurus trilineatus (Zheng, 1979)
Common Name
Highway Catfish
Type Locality
Mountain stream in Luofu Shan, Boluo Xian, Guangdong Province, China.
Synonym(s)
Leiocassis trilineatus, Pseudobagrus trilineatus
Pronunciation
try lin knee ah tuss
Etymology
The specific epithet comes from the Latin tres, meaning three and linea, meaning line; in reference to the color pattern.
Articles
Species Information
Size
76mm or 3" SL. Find near, nearer or same sized spp.
Identification
Tachysurus can be identified by an extrascapular without a laterosensory canal, and a pterotic with a broad lateral laminar expansion. It is among the most speciose catfish groups in East Asia and its members inhabit habitats ranging from fast-flowing hillstreams to large rivers.

Easily distinguished by its elongate body, long adipose fin and attractive colouration.
Sexing
Males have an elongate genital papilla in front of the anal fin.
General Remarks
Found in hillstreams with moderate to swift current and a predominantly rocky bottom.
Habitat Information
Distribution
Dongjiang drainage (part of the Zhujiang [Pearl River] drainage) in southern China.
China Waters, Zhujiang (click on these areas to find other species found there)

Log in to view data on a map.
IUCN Red List Category
Not Evaluated
pH
6.4 - 7.6
Temperature
16.0-23.0°C or 60.8-73.4°F (Show species within this range)
Husbandry Information
Breeding
Unreported.
Breeding Reports
There is but a single breeding report, read it here.
Further Information
Reference
Acta Zootaxonomica Sinica v. 4 (no. 2), pp 182 (English p. 183), Fig. 1
Registered Keepers
Keeping this species? Why not .
There are 10 registered keepers, view all "my cats" data.
Wishlists
Love this species? Click the heart to add it to your wish list.
There is no wish to keep this species.
Spotters
Spotted this species somewhere? Click the binoculars!
There are 6 records of this fish being seen, view them all.
Forum BBCode
More on Tachysurus trilineatus
Look up Tachysurus trilineatus on AquaticRepublic.com
Look up Tachysurus trilineatus on Fishbase
Look up Tachysurus trilineatus on Encyclopedia of Life
Look up Tachysurus trilineatus on Global Biodiversity Information Facility
LFS label creator.
Last Update
2014 Jun 05 10:24 (species record created: 2006 Jun 01 11:22)

Copyright information for the images used in this article can be found on the species' full Cat-eLog page.
Back to Catfish of the Month index.