Article © Janne Ekström, uploaded January 01, 2002.
My L147 came to me in the spring of last year. I bought them from a friend that imported them as L124 from Colombia and when the 8 to 9 cm fish arrived he was disappointed because they were not what he expected and they didn't look so pretty either. As I grew them, they became to be more and more beautiful and changed in colour to be more rusty orange brown with large black dots covering the body and with small dots on the head; now they really looked like L147 "should".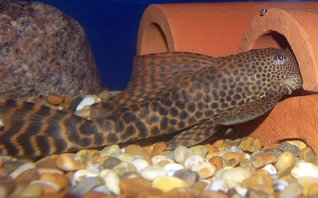 Male in front of his spawning cave
There have been many discussions about what genus (and indeed sub-family) this group of plecos should belong too and after Jon Armbruster described Peckoltia sabaji (L301 but thus including L075 and L124) the genus Peckoltia should logically also be the home for L147. While that is my own opinion, I am not any expert on ichthyology so I leave this to the ones who know better this field. As they say, "I just breed them" and they don't look like "classic" Peckoltia. With this distinction to hand I can safely say they don't act as a Peckoltia and that they grow bigger than Peckoltia species. They are very often mixed and exported together with Clown Plecos (Panaque maccus) by mistake as I think they have the same origin as them; namely the border region between Colombia and Venezuela in the Orinoco basin and llanos. For more information see this Catfish of the Month article.
Preparing the pair
I placed a pair in a 200 liter tank with a fair water current and what I thought were some appropriately sized caves. I always use a thin layer of gravel at the bottom substrate because that way it's easier to feed loricariids when you use a strong current and the food quickly collects in small piles on bottom in calm corners. The size of that initial pair was 15 cm for the male and the female was 11 cm SL; that makes between 13-18 cm TL and at this size the male displays fairly heavy odontodes on his cheeks and along the first pectoral fin. I find that in many loricariids this is a good way to look for different between sexes. Looking at the cheek, there odontodes start to grow and the male looks swollen compared to the female - even if the female have long odontodes she never gets such enlarged cheeks as the male.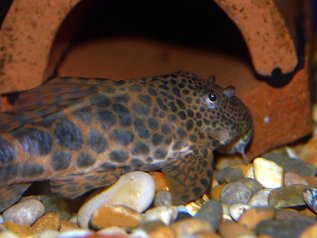 Females cheek odontodes
To conditioned the pair and allow the female to ripen her eggs it's important to give them good food with some proteins daily, they are omnivores so they are not picky with food but if you're serious about attempts to breed them then care and attention to diet is essential. Good foods for them are a varied diet of green tablets and frozen foods (black mosquito larvae, small shrimps and pieces of mussel). I just feed them once a day in the evening and it's better to give them a little more then you expect they will consume. If there is food left in the morning then you have been giving too much. Many people underestimate the amount loricariids eat to be healthy and to grow and breed as they should, it takes some time to learn how much they need and it's important to not overfeed them to the detriment of water quality.
Water quality is one of the decisive factors when breeding loricariids. The water parameters in terms of pH or conductivity are of lesser to little importance for many of this species in this catfish group. Sure, there are exceptions in some genera, but nearly all species I have breed have done so in my ordinary tap water that has a pH of 7.5 and 300 µS in conductivity. L147 was not an exception.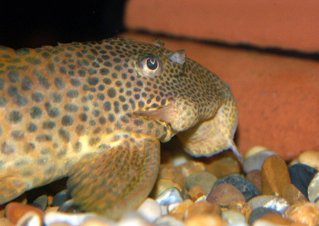 Close up of a male and his cheek odontodes
After several weeks of conditioning the female starts to look gravid and shows some interest in the male. One evening when I was in my fish room there was activity in the L147 tank; the male was trying to get the female into his cave but in a very gentle and caring fashion - this was not at all like my experiences with Peckoltia species in the past. Only a little imagination was required to see these fish as "dancing" in front of the cave and the male was noticeably gentle towards the female pushing her carefully into the cave. Although he tried to follow her it appeared that the cave was too small and that both could not enter and have enough room to spawn. I was watching them for at least two hours and got a little worried about the small cave I had previously chosen for them. To my eyes it was just enough room for the male. Eventually I interrupted them to put a new, slightly bigger, cave into the tank beside the old one. I hoped they would chose that instead but it was too much disturbance and they called a halt to the breeding attempt.
It's always the female that seeks out the male when she feels ready for spawning and if she finds a healthy male with a suitable cave they will spawn sooner or later. I have yet to witness a male in any loricariid species trying to find a female or hunt her into his place - so it's important that males have caves that the females can accept for breeding. Males stand to attention in front of the cave entrance to show the females that they have the best place for breeding and to entice the females they fan their fins in their attempt to convince the female that they are the best choice. If they could talk they would shout, "hey come here I have the best cave to breed in" but, sadly, they can't talk so they use other methods of communication to show themselves off and what better then the big colourful tailfin. If there are two males in the tank at the same size they will fight over the best cave for breeding, sometimes they can hurt each other quite badly, but usually the most dominant male wins before the other male gets to damaged or wounded. This kind of sparring normally results in just scratches and some small damaged fins that heal very fast. When it comes to this species and relatives it's always best to put just a pair together. This is for the sole reason that the female has a relatively fast cycle between the spawning and becoming fully gravid with eggs again. This happens in so short a time that the male has enough to handle from one female alone and when you see them together they really act as a pair - almost like the big cichlids from South America.
| | | |
| --- | --- | --- |
| Female ripe with eggs and ready to spawn | | The male ushers the female gently into the cave |
Spawning
It took almost a further fortnight before they started to show new interest in breeding and they started the procedure once again. I was surprised to notice they chose the old, smaller, cave over the new one; so if I hadn't interrupted them in the first place they surely would have spawned in that at the first time of asking.
This time they didn't take so long for the male had get the female in the right position and he turned out again to turn around and get into the cave again with the caudal peduncle first. I have seen this behavior before in bigger species and I think they do this to allow the use of as small a cave as possible (which are easier for the male to protect) but to get round the fact that if they both are lying with in the cave head first, then there will not be room enough to get into the right position for the male to fertilize the eggs; in fact they are spawning side by side in a backside position.
The female deposits all eggs at once and the male fertilizes them directly and uses his ventral fins to spread his milt over the batch of eggs. I am not aware how the eggs in the middle are fertilized and it seems impossible when all eggs are stacked together so tight and are stuck together as if glued in place.
On this, my theory is that the male starts to fertilize eggs as soon the female pushes them out - before the eggs have gotten shaped into a cluster. This is maybe the reason why certain males sometimes have a low yield of fertilized eggs and the batch of fry are small compared to the number of eggs they have laid. Either they need more experience or it's just a matter of timing and maybe communication between the pair. I have males in other species that only had 30-40% fertilized eggs in their first attempts before they more or less accomplish 100% fertilizing of the eggs.
Immediately after all eggs are laid the male leaves the cave to let the female out, he doesn't chase her away like males do in other species like Hypancistrus or Peckoltia. She leaves very amicably and the male begins attending to his duty of taking care of their offspring. L147 produce between 70-100 eggs per spawn and the male guards them very carefully. He doesn't leave the cave at all during this time between spawning and until the fry have consumed the yolk sac. They are hatch at between five and six days depending on the temperature and they have a yolk sac that sustains them for further eight days before they are free swimming and need to be fed.
| | | |
| --- | --- | --- |
| One day old fry | | Two day old fry |
| Three day old fry | | Four day old fry |
| Five day old fry | | Six day old fry |
| Seven day old fry | | Eight day old fry |
| Nine day old fry | | Ten day old fry |
| Twenty day old fry | | One month old juveniles |
The fry are small upon fully consuming their yolk sacs and then are just below 15 mm TL. At this point, as most fry, they are sensitive to nitrates and they need to be fed with the smallest food as possible. Maybe 15mm sounds big and 15 mm is quite normal for other loricariid fry but these fry are thinner if you compare them directly with Peckoltia fry for example and the first food for them that has worked best for me is squash. I prepare these by cutting them into small pieces and removing all the seeds and then I boil them for one or two minutes before I freeze them in plastic bags. If you boil them first they will sink when you put them into the water.
I let the pieces of squash lay in the bottom of rearing tank for one day before replace those that are uneaten with new ones. The fry eat both the skin and soft parts and even the microfilm that are builds up on the surface.
After two or three days I complement this diet with micro food for fry and with this they are fed through the first week. Once they just start to eat this they grow quite fast and after a month they will have already reached 20 mm TL.
With my first batch of fry I had some problems with survival because I didn't know what food to offer but after I started with the squash in the way I have described I have almost a 100% survival rate with this species. When it takes no longer then 25-28 days for the female to be full of eggs and spawn again there will be lots of fry to take care of when every batch gives just under 100 fry.
They started in the beginning of May this year and as I am writing this in the beginning of September the male is guarding the fifth batch of eggs and is still as focused as he was when they spawned the first time; they are really easy to breed if they just have what they need.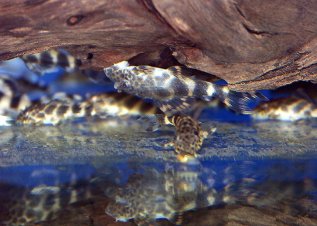 Four month old youngster
The fry grow fast and reach 35-40 mm TL in four months and should be ready for sale in six months. At that point they should have reached between 50-60 mm TL if you just keep the water quality high with frequently water changes and feed them twice a day.
Husbandry
This is an easy and harmless catfish for every tank as they tolerate a wide range of water parameters and can be kept with success in a pH range of 6-8 and a dGH up to 15 and a temperature between 25-28 C - no problem at all. They don't require any really strong currents, don't eat any plants but will eat almost everything you offer (the main diet should be vegetable) and they don't even touch the smallest fish so they can be kept in every kind of community tank. I don't know if they will succeed with breeding in too hard water but they are really beautiful when they have grown up to a mature size. L147 is almost as easy to breed as the common Ancistrus, if the aquarists just take notice of how beautiful a species these are then I'm sure they will become widely spread.
Facts about water and tank setup for breeding
The size of the breeding tanks are 100 x 50 x 40 cm, the sole current comes from a power head that pumps 1200 L/h. The power head is placed on one side with the outlet near the surface and the inlet near bottom, the current hits the other side and in that way you force the current to be near the bottom of the tank when it returns to the pump. At a point close to where the current turns back their should the cave be placed and in this way you will have a slight current facing the entrance to the cave. You can use several caves but this is the one they will use - like most of the other cave spawning pleco species you want to attempt for breeding - in this way you will have both current and good aeration of the water. The size of the cave is important for most species and the one they used here is 20 cm deep and the entrance measures 5 cm wide and 4 cm high, depending of the size of the breeding pair you have to consider this so the cave not would be to big. When my pair spawns the following water parameters measured were more or less equal every time, pH 7.3 conductivity 290 µS, temperature 28.6 C.

There is further information on this species on the Cat-eLog page.
Hits: 19732
Back to Shane's World index.